Setex® Blue Light Blocking Eyeglasses
Our blue light lenses filter out UV rays and blue light emitting from video, TV, phone, laptop, computer gaming or fluorescent lights, thus protecting your eyes from damage and relaxing your retina. Blue light that emits from your electronic screens...
Our blue light lenses filter out UV rays and blue light emitting from video, TV, phone, laptop, computer gaming or fluorescent lights, thus protecting your eyes from damage and relaxing your retina. Blue light that emits from your electronic screens can affect your sleep quality, and subsequently, your health.
Blue light blocking eyeglasses have gained popularity with people exposed to extended time on their digital devices. Research shows the average adult spends at least 11 hours looking at their devices each day. The light emitted from your screen signals your brain to wake up rather than wind down, which tricks your body into thinking it's daytime, making it harder to get the sleep you need to start the next day at full strength. Our glasses block these blue light from reaching your eyes.
The Setex Blue Light Blocking Eyeglasses come with a 5-pair pack of Setex nose pads to ensure your eyewear is always in place and doesn't slip down your nose. Our premium nose pads mimic a gecko's foot fibrillar structures for a comfortable, strong grip even on wet, sweaty or oily skin.
Contains: Blue light blocking eyeglasses, 5-pair ultra-thin (0.6mm) black nose pads, 1 pair thick (1.8 mm) clear nose pads, cleaning cloth and pouch.
Frame Color: Black
Lens Color: Light yellow tint that provides 40% blue light blocking
Nose Pads Color: Black (ultra-thin) and Clear (thick)
Size: 18.5 x 8.5 x 4.75 cm

View Product Tech Sheet
RETURNS POLICY
Returns by Consumer Customers; Refunds to Consumer Customers. Products purchased on setexgrip.com and shipped to a Consumer Customer in the United States can be returned within thirty (30) days of delivery, with some exceptions. Consumer Customers may request a return by contacting us at customersupport@setextechnologies.com. After the carrier receives your item, it can take up to two weeks for us to receive and process your return. We typically process returns within five (5) business days after the carrier delivers the item to us. When we complete processing your return, we issue a refund to the payment method that was used to purchase the returned item. Once we issue your refund, it takes additional time for your financial institution to make funds available to your account.
| Refund Method | Refund Time (After Refund is Processed) |
| --- | --- |
| Credit Card | Three to five business days |
| Debit Card | Up to ten business day |
Products purchased from setexgrip.com and shipped to a Consumer Customer outside the United States, may be returned only with our prior written approval. A product purchased from www.amazon.com, www.walmart.com, or other third-party platform must be returned to the platform from which it was purchased pursuant to that platform's applicable return policy.
Returns by Business Customers. All sales of our products are final. Business Customers have no right to return any products to Setex Technologies without our prior written approval in each case. All returns by Business Customers that are authorized by Setex Technologies are subject to a twenty-five percent (25%) restocking service and handling fee, calculated on the total order value, as well as an additional deduction for any damage to the product that has occurred at any time following delivery of the product to Business Customer and prior to the return of the product to our warehouse. Business Customer shall pay all freight and insurance charges connected with shipping any returned products to Setex Technologies and shall bear the risk of loss or damage to the products until the products are delivered to our warehouse. For authorized returns by Business Customers, Setex Technologies does not take title to returned items until the item arrives at our warehouse. Setex Technologies may reject any unauthorized return of products by Business Customers.
Notwithstanding anything to the contrary, all dies, tools, models, plans, drawings, or other documents, devices, or equipment developed, used, or procured by Setex Technologies ("Tools") in order to produce Setex Technologies products are and shall remain our exclusive property, even if the cost of development, procurement, and/or use of such Tools was wholly or partially borne by Customer and notwithstanding any charges relating to Tools reflected on our invoice.
Highlights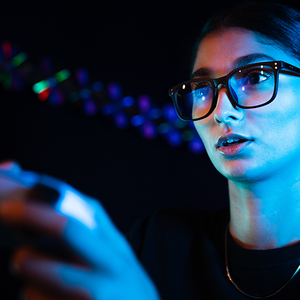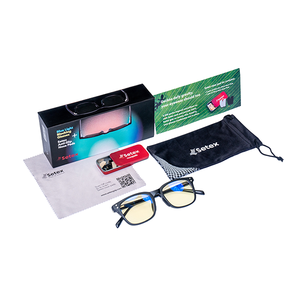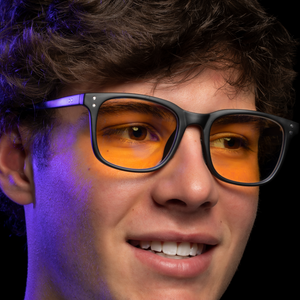 Product Benefits:
Blocks blue light from reaching your retina
Allows extended time on screens without eye stress
Reduce eye strain
Sleep better
Use Cases:
Extended hours of gaming
Smartphone time
Working on your laptop
Watching video
Setex Technology
Setex Blue Light Blocking eyewear uses standard UV400 blue light blocking lenses that filter out UVA/UVB rays. They are non-prescription and have no magnification. Setex nose pads are made from a patented, gecko-inspired technology that biomimics nature to organically provide you with a strong, comfortable grip on your eyewear and beyond.